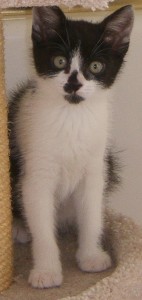 My neighbor's tuxedo cat went missing last March. This was not the first time Mim had slipped out the front door to go on a walkabout, but it was the first time we were unable to find her. We finally gave up hope and steeled ourselves to the unhappy fact that she was probably dead. My friend moved away a few months later.
Most of the locals know I'm involved in the feline community, so it was not surprising the get a call this summer from a friend a few streets away about a tuxedo cat living in the shadows of her yard. I wondered if it was Mim but this cat was so skittish no one could get a good look at it.
Then in early October another neighbor down the street from me came to my door with a similar story, except this time the cat was approaching their back door in the evenings asking for food. Since this backyard shares a fence with my friend, I figured it must be the same cat. A visit at feeding time confirmed that it was indeed the long lost Mim.
The sad part is that when Mim saw me, she ran. Even though she had been my foster kitten and knew me, she also must have remembered that I had trapped her the two other times she had run away. I had no way of letting her know that I wouldn't be doing that again this time, at least not right away. I was just thankful to know she was still alive.
This formerly indoors-only cat now prefers to live outdoors. Unfortunately, it means she now has to catch her own food or go hungry, and will not be treated for parasites or have healthcare. With winter approaching and the couple that had been feeding her has decided not to continue, and I worry how Mim will survive without good food and a cozy fire to curl up next to. She is already on the thin side being in survival mode.
The environment she fled was one of intermittent chaos, and being the shiest of her litter, it is no wonder to me that when the door was open she bolted three times. I would love to find a quiet home for this cat, one where she can go outside if she wants to but also have shelter, regular meals and flea treatment. I cannot in good conscience trap Mim only to put her in a small cage in hopes that someone will adopt her. Being shy, I fear she will not "show" well and therefore languish in the shelter.
If you are interested in rescuing this four-year-old cat before the weather turns, please contact me through "General Info" link on our website.